We are excited to share ELEM 2021 annual report is out!
"As a society, we must not ignore the cycles of poverty, distress and risk. ELEM is leading the rehabilitation and connection of at-risk youth with endless love, devotion, both on the street and on social media," said Israeli President Isaac Herzog when he received ELEM 2021 annual report, after two particularly difficult years for youth and young people in Israel.
The report, submitted by Ms. Nava Barak, President of ELEM, and Ms. Dana Avraham, ELEM's Executive Director, delves into the distress faced by at-risk youth in Israel after two years of COVID. The report points to a dramatic increase in violence, depression and anxiety, drug and alcohol use, eating disorders and self-harm.
While we stayed at home during COVID , many at-risk youth did not have a safe home or a home at all. The risk factors increased as youth and young people lost jobs, dropped out of school and suffered from depression. ELEM did not leave youth and young people alone. Despite the difficulties ELEM continued to operate and serve those who are most vulnerable.
ELEM presents its annual report yearly to the Israeli president. The report is central to promote awareness to the lives of at-risk youth in Israel and the work ELEM is doing. We are so happy for this ongoing support from the office of the President Israel.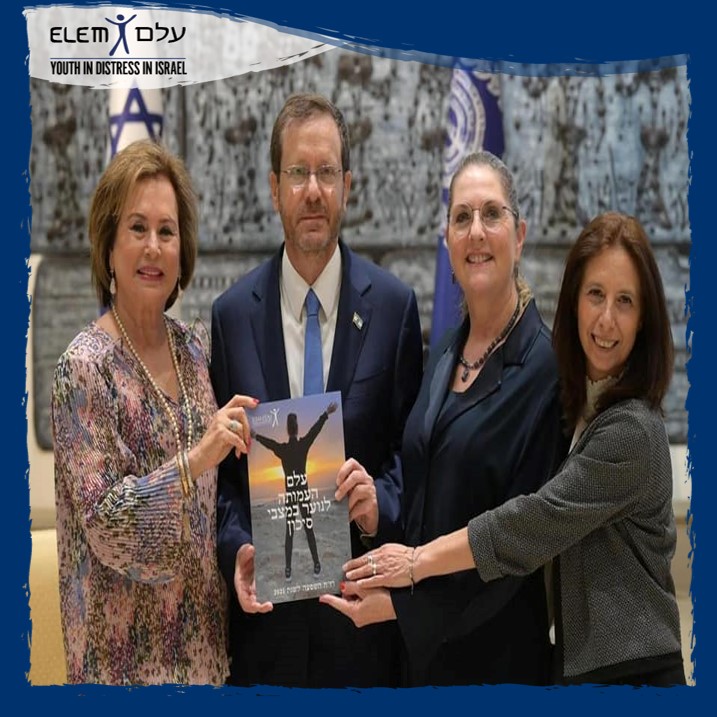 Photo credit: Amos Ben Gershom, Government Press Office (GPO)