This week people around the globe marked Good Deeds Day . Did you know that Good Deeds Day was first launched in Israel to bring people together through volunteer work?
On Israeli Good Deeds Day, which took place a few weeks prior, ELEM youth from our programs participated in a variety of volunteer initiatives. The youth of ELEM's Halev Center went out and gave food to people experiencing homelessness, some held story hours in kindergartens while others from ELEM's Migdalor center gave flowers to mothers around the neighborhood.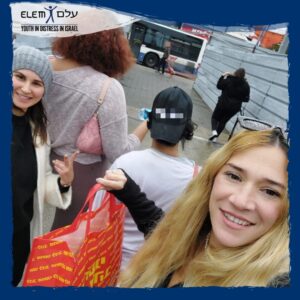 Their experience of distress helped out youth develop a unique sense of empathy and care. We are proud of them for honoring their pain but turning it around and spreading light.
ELEM was also fortunate to have volunteers from a variety of companies and organizations that chose to volunteer at our centers to mark this day. Our centers got everything from beautiful flower beds to a fresh coat of paint.
We want to thank all the incredible companies and volunteers. Thank you for taking the time to do something good for our youth. It means the world the us!
Good Deeds Day was a wonderful reminder that even seemingly small actions have power. One good deed can inspire others to pay it forward.