Your donation at this time can help us greatly. For your convenience, we launched a few possible ways to contribute.
-Through our website, here.
-Through the GoFundMe platform here.
-Or by sending a check to: ELEM/ Youth in Distress in Israel, 224 West 35th Street, 11th Floor, New York, NY 10001
Scroll down for previous updates.
ELEM's operations update, 5/07/2020
They wake up at noon, and spend the entire day on their phones: How do adolescents deal with the Corona crisis and what can parents do to assist their anxious and sometimes depressed children?
Irit Aloni, head of the Youth Centers Field at ELEM, who holds an MA in social work and is a parents' counselor, has the answers.
Read her recent interview here.
***
ELEM's operations update, 5/05/2020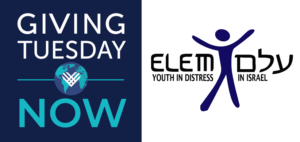 Today is #GivingTuesdayNow, a new global day of giving and unity as an emergency response to the unprecedented need caused by COVID-19.
It's an opportunity for people around the world to stand together and use their individual power of generosity to remain connected and heal.
At a time when we are all experiencing the pandemic, generosity is what brings people of all races, faiths, and political views together across the globe. This is very much what ELEM is about. Generosity gives everyone the power to make a positive change in the lives of others and is a fundamental value anyone can act on. ELEM lets this mantra guide us every day on the streets, and in youth shelters and centers, assisting thousands of at-risk youth, and now during the pandemic they need us more than ever.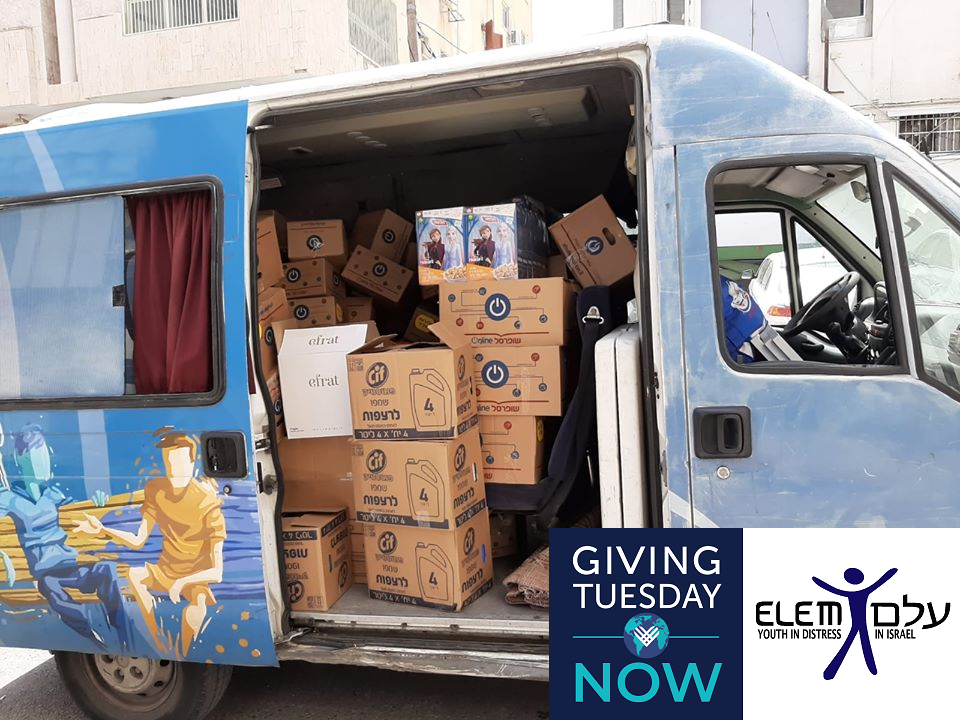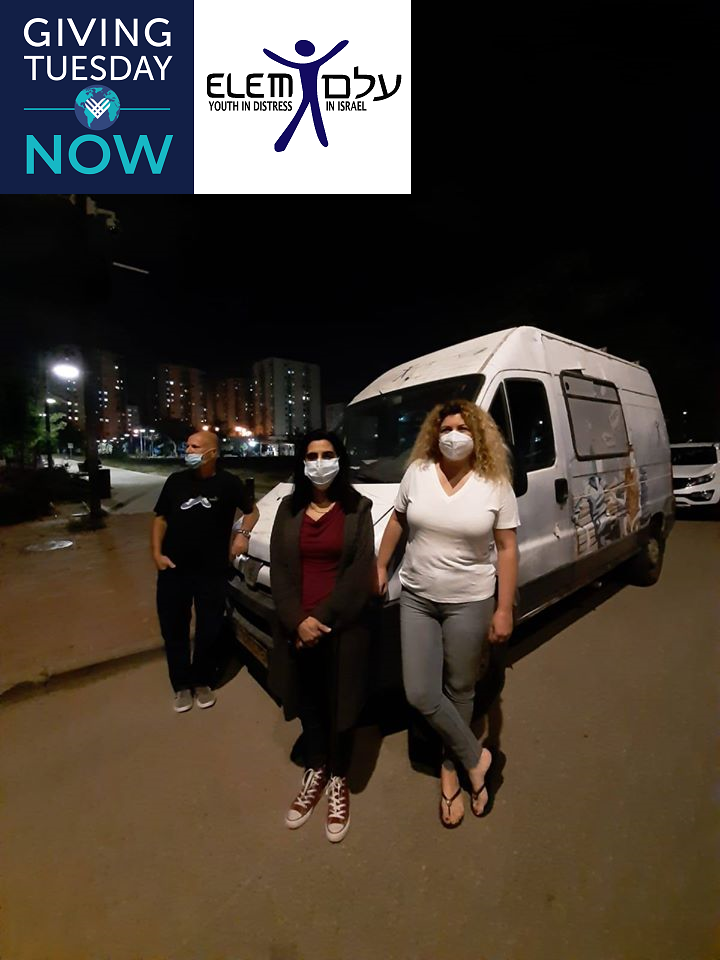 (our Outreach Vans still go out on emergency runs to distribute supplies)
Giving Tuesday Now emphasizes opportunities to give back to communities and causes in safe ways that allow for social connection and kindness even while practicing physical distancing.
As our Corona Emergency Campaign reached our original goal of $5000, we're now trying to raise $10K. Your donations will be matched and count twice as much. If you can't afford to donate but still want to participate, tell at least one friend about us today. ❤️
Will you lend us a hand on this Giving Tuesday Now? To donate, visit https://tinyurl.com/ELEMemergency (GoFundMe)
or our website at: https://elem.org/donate
***
ELEM's operations update, 5/01/2020
Here's a transcript of an interview given by ELEM Israel President, Nava Barak, on Tel Aviv Radio in Israel. She's discussing what the at-risk youth is doing at a time when they can't be outside, and the crisis of the entire volntary sector in Israel.
***
ELEM's operations update, 4/30/2020
Here are some updated statistics of youth served since the beginning of the Corona crisis.

***
ELEM's operations update, 4/23/2020
-Youth currently on the street is unable to receive their stimulus grant from the Israeli government. We're doing whatever we can to be there for them and support them.
-As we've mentioned, the youth and young people we serve currently face challenges that are unique to the Corona crisis. We've spoken a lot about the need to isolate while homeless, and isolating with violent family members, but the variety of unique challenges is large. Let's talk about communication.
Bar, a member of ELEM's activist community (a community for women who graduated from one of ELEM's other programs): "We're all aware of the negative aspects caused by our addiction to mobile phones. But nowadays, when the world is at a place where the only way to communicate with others is through the phone and social media, we all need that screen more than ever. Sadly, my own screen has been cracked for quite some time, and I can't communicate with the world out there. To live through the Corona era with no means of communicating with others is extremely hard.
Fortunately for me, the ELEM activist community I'm a member of, "World Altering Ladies," has initiated a project – we collect smart phones from good people who don't use them, and we distribute them to youth, and young men and women at-risk. This saves them from boredom and loneliness at this time.
Thanks to the initiative, I now also have a new phone, and I can finally participate in classes, Zoom calls, and remote social gatherings.
We get many requests from youth and young people who are still in need of smart phones in order to get through this period.
We'd like to say a huge thanks to the incredible people who already donated phones."

***
ELEM's operations update, 4/21/2020
Today, Yom Hashoah, we held a special "Memories in the Living Room" lecture via zoom with Miriam Aflalo, a Holocaust Survivor who told us her fascinating story. The event took place as part of OnLife, the special website initiative launched during the Coronavirus crisis, serving ELEM youth whom we're mentoring towards independent lives.
Miriam, who was born in Slovakia, told us her incredible Aliyah story, which started in 1940 as she escaped the Nazis during World War II. She spoke of her journey with the Aliyah ship Pentcho. The journey was so full of hardships and complications, that it took the people originally aboard the ship over 4 years to make it to Israel.
40 young ELEM men and women took part in the Zoom conversation and were glued to the screens. They asked Miriam many questions all throughout the lecture, such as – "What scared you during the journey?" "Did any other family members survive? Are you in touch with them?" and many more. When asked "how can one overcome all that's bad in the world?" she replied – "if each of us do their own small part, be a good person, a fair person who helps others, the world won't be so bad."
Thank you, Miriam! You taught us an important history lesson and you moved us greatly.
In the photos: Miriam during the ELEM OnLife Zoom lecture, and with the army officer who was sent to notify that the war was over.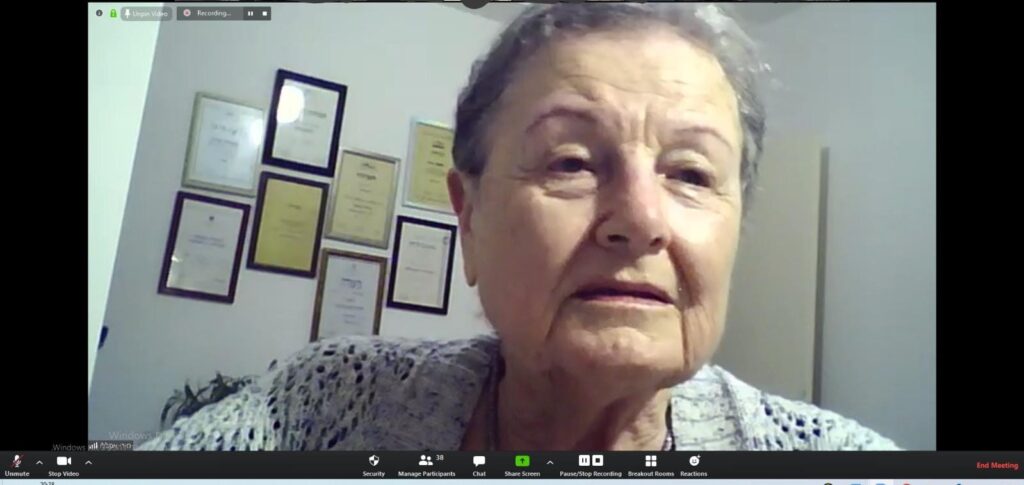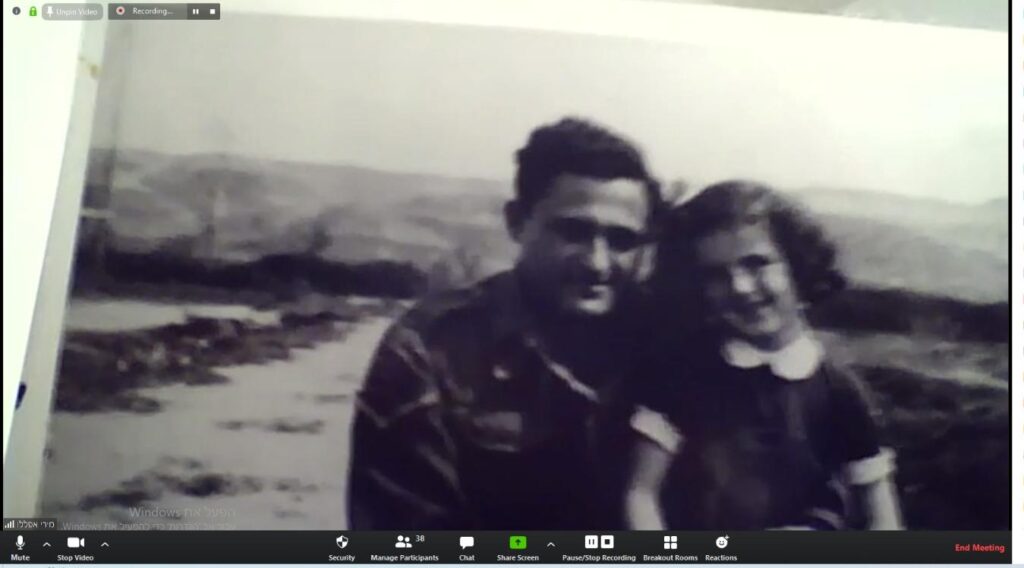 ***
ELEM's operations update, 4/19/2020
ELEM Israel CEO, Inbal Dor Kerbel, was interviewed by Maariv about the massive financial crisis ELEM is currently facing, and will be facing for a long time to come.
ELEM Israel's annual fundraising campaign, which was meant to raise an estimate of 2M Shekels (Nearly $660K) was postponed indefinitely.
We're estimating that 2020 will bring in 40% less in donations than anticipated.
For more information on the financial struggles, and on ELEM's work at this time, even with these challenges, pleas read the full article, which was originally published on 4/17/2020.
***
ELEM's operations update, 4/17/2020
–Here's an article featuring ELEM Israel President, Nava Barak, along with ELEM's head of the Street Work Field, Roy Homri, and ELEM's head of the Youth Centers Field, Irit Aloni.
The piece was published on Mako, a big Israeli news portal, on 4/16/2020, and is discussing the current challenges youth faces while isolating, and the work ELEM does to address these challenges.
-In addition, here are a few stories we've gathered from the last couple of weeks:
A 19 years old girl is all alone in Be'er Sheva with a 4 months old baby, without any sort of family support.
A young woman of 20, with a 7 months old baby, is located in Kiryat Yam and has lost her job due to the Coronavirus spread.
These are just a couple of stories. Since the beginning of the crisis, ELEM has been helping twenty-three single moms, ages 18-22, who have no family support or any other kind of support, and have lost their jobs, and find themselves lacking food and basic supplies.
-"There's no way I'm going to self-isolate. I'd rather live on the street than to isolate."
We've got reports from the Jerusalem Outreach Van, of about 14 young men and women who live on the street, in addition to 14 minors. And that's during this past week alone. All of them are new people we've not met before, choosing to be on the street at this time, rather than being at home, isolating with a family they've been trying to escape.
An anonymous donor is matching all donations up to 20K, if you'd like to contribute to our emergency campaign, please visit GoFundMe, or our website.
***
ELEM's operations update, 4/14/2020
The Israeli government has decided to give 500NIS grants ($140) to families with up to 4 kids (one grant per child,) and to the elderly.
Many of the people who are entitled to a grant felt that others are in greater need of the money during this crisis, and they wish to donate their grants.
Our Friends at ELEM Israel teamed up with other important NGOs in Israel for a campaign called "Matching from the Heart." The campaign allows people to donate their grant money, or a certain portion of it, to vulnerable demographics that need the financial support now more than ever. Thanks to a collaboration with businesses and funds, any donation is matched.
Donors can pick specific NGOs from a list, or decided to split their donation equally between all NGOs.
In less than 36 hours, the initiative managed to raise over 600KNIS (nearly $170K)
Many Israeli celebrities joined the effort to spread awareness about the initiative.
This is a good opportunity to point out that ELEM USA also has a matching donor, and that you can donate by visiting GoFundMe or our website.
Remember that the more we make, the more we're able to send to our friends in Israel.
We enlisted some well-known friends ourselves, and we'll see more familiar faces in the next few days. Follow our social media accounts for more updates! (all of our social media links are at the bottom of this page.)
In the meantime, you can read a short excerpt from a recent interview with Roy Homri, ELEM's Head of the Street Work Field. In this interview he gets more in depth about what happens with kids who can't isolate at home, since home i a dangerous space for them.
***
ELEM's operations update, 4/11/2020
-On 4/7, ELEM's Head of the Street Work Field, Roy Homri, was on KAN B radio station, for a interview with host Keren Neubach. They spoke about the part the streets play in this crisis. What do kids do when home is a scary place but being outside is not an option? What do they do once they run away, and how do we find them at this time, so we can provide help.
To read the transcript please click here.
-It's been a month since the restrictions were put in place. Here's a look at the numbers behind ELEM's emergency work during this period.

-And here's a couple of recent testimonials from youth.

***
ELEM's operations update, 4/08/2020
On 4/7, ELEM Israel President, Nava Barak, and Head of the Youth Centers Field at ELEM, Irit Aloni, were on GLZ, Israel's biggest radio station, for a short interview with host Yael Dan. They spoke about the complicated situation, its challenges, and the ways in which ELEM still manages to be there for the youth even during the crisis.
To read the transcript please click here.
***
ELEM's operations update, 4/04/2020
ELEM Israel's CEO, Inbal Dor Kerbel explained to independent news magazine, HaMakom that the voluntary sector, which includes ELEM, is on the verge of collapse, even though the need for its services is greater than ever. To read more, click here.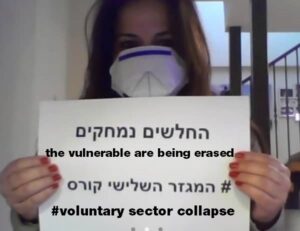 ***
ELEM's operations update, 4/03/2020
ELEM's ongoing efforts to transfer as many services as possible to the digital space continue.
The Employment field at ELEM, which, among other projects includes the From Protection to Independence program, has launched a new initiative. ELEM – OnLife.
The ongoing crisis left our youth confused and anxious, and left us with limited abilities to be the stable safe space that they are familiar with.
In an attempt to bring some routine back to their lives, and in order to keep being a source of interest, activities, and creating a sense of belonging (which is extremely hard to do these days,) volunteers and staff banded together and created, in 3 days time, ELEM – OnLife: an initiative which provides our youth with access to a world of information, content, classes, and live workshops. These will allow them to enjoy and grow without leaving the homes.
This is a tremendous opportunity, because online or not, this allows us to once again, as always, be there for them, remind them that they're not alone, and that maybe this crisis is another chance for personal growth.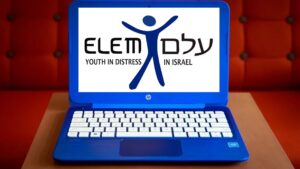 ***
ELEM's operations update, 4/01/2020
ELEM Israel CEO, Inbal Dor Kerbel, spoke at an emergency convention of the voluntary sector. The leaders of the sector warned of potential collapse if the sector doesn't receive the necessary funds to overcome this crisis.
Read more in this article by Israel's daily financial news magazine, Calcalist.
***
ELEM's operations update, 3/30/2020
Status report regarding the Hafuch youth centers,
Irit Aloni – Head of the Youth Centers Field,
Adi Nasirov – Manager in the Youth Center Field,
3/30/2020:
How many kids have you lost?
We haven't lost a single kid. Where we lost a kid for a few hours or a day – sometimes the parents confiscate their mobile phone – we have found ways to reach out and maintain the relationship.
How many kids have you gained?
Great many. Many of the city financed programs across the country have shut down and are referring most of the kids to ELEM only. So we're now supporting a lot of youths we didn't know before.
How do you operate?
-Staff announces the beginning of the shift on social media, whatsapp.
-Shift begins (2PM-10PM) as an open Zoom call, anyone can join.
-Also using House party (10 users), Zoom has 50 users at once.
-Kids, staff, and volunteers have a group chat about the day to day concerns, and new situations. We see more loneliness, isolation, depressive feelings due to the quarantine, all being exacerbated by unstable family/home situations.
-if a kid raises/mentions a particular problem/anxiety, the staff creates a private Zoom room on the spot for one-on-one conversations.
-In addition to the group format, we hold one-on-ones with every kid, at least once a week, on video chats, whatsapp, etc.
-All communication is documented on CRM, teens are tracked.
New costs:
Some of the teens/their families are receiving food packages – the teens and/or their parents lost their jobs which limited their ability to restock food supplied.
***
ELEM's operations update, 3/27/2020
We're right in the thick of the Corona crisis and thousands of at-risk youth and young men and women in Israel go even more unnoticed than before.
They face hardships on any given day, so imagine the unique challenges and distress that the Corona brings with it, challenges that are closing in on them every day. As of now, these young men and women are even more exposed to violence, and loneliness. At a time when home is the safe space for "normal" people, it can be a threatening environment, sometimes violent, for many at-risk youth. They might face verbal, physical and even sexual violence at home.
This is the reality in which we have to keep doing our job, and help them face these hardships and overcome them. Treating the at-risk youth during a crisis as we experience it today is critical, and while our ability to be there for them at this time, and support them is limited, we must find creative and diverse ways to help them.
ELEM continues to be there for them during the Corona crisis, by operating most of our programs in an online support and assistance format, by serving youth through Zoom, social media and more, be it in an individual format or in groups. Our staff and volunteers show up for the youth in a variety of creative ways online, while we remain dynamic during this time, and let our therapy methods transform based on need, when new crises arise, as others become less urgent as a sign of the times.
At the same time, our extreme-risk programs (for homeless youth and youth who deal with prostitution) remain operational, while following the Ministry of Health's guidelines. These programs meet their own challenges in the demographics they serve, such as high exposure to Corona infection, the challenge of quarantine at our shelters, and more. Here, too, our staff works tirelessly and in higher capacity in order to provide the best solution for these extreme risk scenarios.
In addition, we've seen very touching actions from good people and businesses who've been donating equipment and food to assist those who are most vulnerable at this time.
At the end of the day, our goal is to be there for these youth, embrace them, and not give up on a single one of them, not during "normal" times, and not during this challenging period.
Below is a breakdown of how each field at ELEM is dealing with the current challenges:
Youth Centers Field:
When we had to inform the youth that we're shutting down the Hafuch branches, we got a lot of sad and frustrated reactions. We also encountered anger towards the situation. It was a huge challenge for us as well, but we course-corrected very quickly and all the staff and volunteers put all of their efforts towards working online via the different social media platforms. We spend every day gathering more ways of dealing with the situation and understanding that new virtual battlefield. We now call this the "Therapeutic Environment in the Virtual Space."
We expanded our shifts in many of the Hafuchs, now operating in additional days, and serving for longer hours. So we maintain these afternoon shifts, usually between 2-10PM. During these hours the staff serves the youth via Zoom, on Whatsapp, Instagram, and Facebook. The teenagers "arrive" after the staff announces the shift ahead of time on social media, through Whatsapp texts, and in phone calls, in order to spread the word about the virtual space.
Every shift is split into small shifts of two hours each. The first hour is dedicated to group conversations via Zoom, and the second hour consists of individual conversations. There are two reasons to hold these individual conversations: 1. Based on need that came up during the group talk, or, 2.We reach out to every youth who attends Hafuch at least once a week. The group format doesn't fit everyone and this one-on-one option allows them to better share, consult and unload.
Street Work Field
ELEM's outreach vans are still operating, but the entire operation has been transferred online, mostly on Zoom, Whatsapp, and Instagram. The physical meetings on the streets moved to the virtual space.
In every shift we hold a group talk and invite all of the van's youth. Later on, the staff does individual conversations (on Whatsapp, Zoom, and on the phone) so that the personal relationship with each of the youths is being maintained constantly.
Most van teams aspire to create a virtual routine that mimics the one they had on the street. Permanent days, at the same hours. Evenings that served thus far as "girls night" at the van, became "Girls' Zoom" or "Girls Instagram Live."
Employment, and Mentorship to Independent Life Field
Normally, ELEM accompanies young at-risk men and women to help them prepare for independent life as part of the community. Many of these young people lost their jobs due to the Corona restrictions (many work in restaurants or clothing store chains.) Some don't qualify for unemployment because they haven't yet completed six months of continuous employment, or because they're younger than 18. They have no savings, no family to turn to, and many found themselves unable to pay for food.
In order to support them, ELEM still holds personal meetings with them, but those meetings were transferred to Zoom, Whatsapp, or phone calls. The group meetings help these young people survive the crisis, which their demographic experiences in a very extreme way. Many of them live alone, suffer from loneliness, and are helpless in dealing with this financial situation and the uncertainty of what the next day may bring. The group meetings give them a feeling of togetherness. There are general groups, and there are specific ones (such as a group for young Arab women.)
The volunteers who do personal mentoring and accompanying have received digital training at a very quick turnaround. They were taught how to use the digital tools for involvement with the youth, and were informed of aspects of involvement that are unique to this period of crisis. It is important to note that the frequency of these meetings has gone up significantly. Instead of a meeting once every week or two, now the involvement is daily and the capacity of activity has tripled.
ELEM is making a huge effort to help support single mothers and young people who have been left with nothing, by immediately collecting donations of food packages, diapers and other baby related items, and more. This is made possible by donations from the community, family, friends, and utilizing social media. In a very touching act made by ELEM, our managers in the field, and our volunteers, drove all around the country to distribute the donations, while following the restrictions made by the Ministry of Health.
ELEM Digital:
In light of the Corona outbreak the digital field at ELEM had to expand its operations:
Our online chat now operates on additional days and longer hours.
We have recruited more volunteers.
We allowed more young women and teenagers to join our close community on Facebook (Fireflies.)
Our web scouting team has been reinforced, allowing us to locate more at-risk youth online, and we've also expanded what we look for online to make sure our scouting includes Corona related hardships.