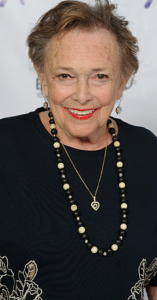 Ann's Story
Let's think briefly about the history of ELEM. How did it happen? Only rarely a person, in Israel or America, knew or thought about ELEM's cause of supporting neglected, delinquent, Israeli youth. ELEM started with very few people and started in America.
An Israeli Family Court Judge, Savionah Rotlevy, came to America on sabbatical with her husband, David Rotlevy, the then Israeli Economic Minister. At the same time, an Israeli social worker, Josepha Steiner, came to America to work at my social agency, The Jewish Board of Guardians now called the Jewish Board.  I was working as a social worker, managing a liaison program to link volunteers with children in the court system. Savionah, Josepha and I met at the Board.  They talked with me about Israeli youth from the Israeli court system with the same problems as in America. These young people had no one to advocate for them and did not get the proper help.
We started a small group of professional and lay people in America, a brain trust of clinicians working with this population. Among the earliest involved were Efrat Abrams, Bobbie Glass, Barbara Sassoon, and Becky Rozen. Others included Dina and Rafi Recanati; the Israel Discount Bank; May and Arnie Forster; Nuisia and Aron Chiliwich; Suzanne and Lionel Pincus; Atara and Yosi Ciechanover; Marian and Elie Wiesel; Blanche Bernstein; and Maureen and Marshall Cogan from Israel. This small group had two main interests that brought us together – Israel and its children.
We began to talk and compare experiences. That was the beginning of sharing professional expertise in both countries – a sharing that continued for many years where we would have international telephone calls each month to discuss in detail each professional issue. This sharing of experiences in both countries resulted in our most important projects.
In the beginning, the statistics in Israel were staggering. Over 25,000 Israeli youth neither worked nor went to school and over 10,000 youth went through the Juvenile Courts each year for delinquencies. These youth represented 10% of all Israeli youth between 14 to 18. Who thought that delinquencies like this could occur in Israel? These problems were unknown and ignored by large sectors of the Israeli population, and also unknown among the friends of Israel in America. What could be done? These youth had no advocates, few facilities or funds available to help them. So – ELEM was founded in America in 1981 and in Israel in 1982. In Israel, like America, ELEM started with very few leaders: Yochanan Wozner, Dean of Tel Aviv School of Social Work; Miriam Golan, a Social Worker and Administrative Director at Tel Aviv University; and Memi de Shalit. These and a few other founders brought the needs of delinquent youth to the consciousness of national and local government officials and brought fresh professional ideas and resources to the treatment of these youth.